Sea Water RO Plant For Boat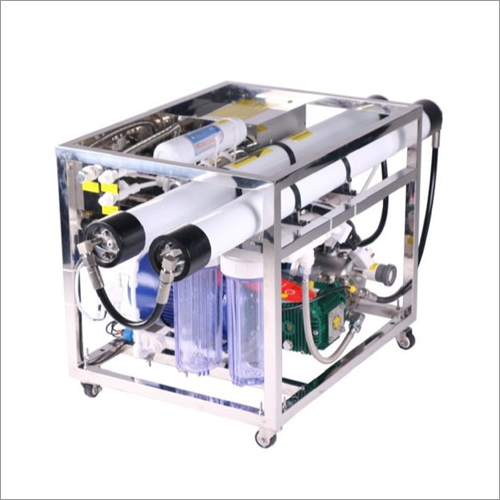 Sea Water RO Plant For Boat
Product Description
Backed by a team of diligent professionals, we are engrossed in supplying the best in class Sea Water RO Plant For Boat. It is typically used to remove suspended particles, impurities, and dissolved contaminants from raw or untreated water. The RO plant consists of precision components and units, which are responsible for its effectiveness and unmatched performance. Sea Water RO Plant For Boat does not degrade in quality or become inferior for years. It is an economical and efficient water purification system.
Treatment method:
Settling, Clarifier, Flocculation, UF System (Optional), Chlorination, Pre-treatment, RO System, Sea water desalination (by Sea Water Membrane), Flushing & Cleaning, Micron Filtration, Dosing system, UV System
System Capacity: 500 LPH to 5,00,000 LPH & mor
The reverse osmosis process consists of applying pressure to a salt water solution and forcing it through a semi-permeable membrane. The water passes through the membrane, from the side where the salt concentration is highest, toward the side where the salt concentration is lower. The result is that the concentrated solution part is minimized in favour of the freshwater. Our Sea Water Desalination system as well as Containerized Sea Water Desalination Plant use Reverse Osmosis System capable of producing up to 10,000 m3/day with built in pre-treatment & membrane cleaning resulted in removal of metals, minerals & chemical contaminants. Our system makes it convenient to convert sea water to potable water in the world with high recovery rate.
Specification
| | |
| --- | --- |
| Minimum Order Quantity | 1 Piece |
| Type Of Purification Plants | Reverse Osmosis |
| RO Capacity | 100 LPH - 1000 LPH |
| Purification Type | Sea Water membrane & Micron filtration |
| Brand | Waterman |
| Usage/Application | Boat/Yatch/Ships/Resort |
| RO Membrane Type | Sea Water |